Autani Lite
Autani Lite is a standalone room-based lighting control solution that can be configured to different profiles, utilize daylight harvesting, and task tuned to optimize occupant comfort and energy efficiency. Autani Lite is also easy to install, affordable, and able to meet some connected lighting specifications through our specialized scheduled lighting switch. Autani Lite is an intuitive and flexible way to provide pleasing, responsive light levels in the workplace and improve incentive eligibility. Autani offers three upgradeable tiers of lighting control: Lite, Linked and Insights. Unlike many IoT solutions, Autani Lite is designed to scale up to connected lighting or even IoT without having to change hardware.
Autani Linked is available for field installations or for ease of installation integrated into new light fixtures and retrofits from our OEM partners.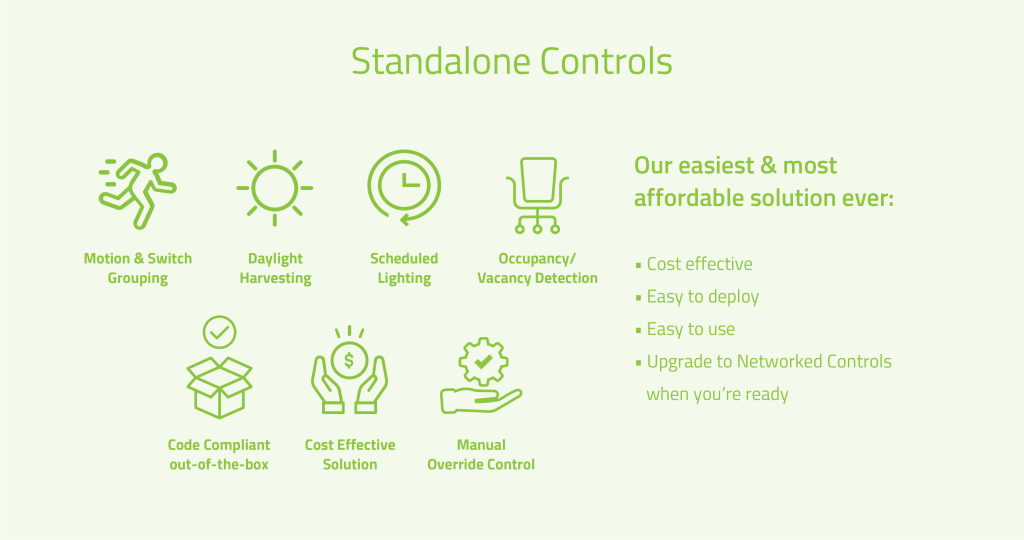 Autani Lite Features
Autonomous Lighting Behavior: Sensors adjust light levels based on occupancy, task tuning, daylight harvesting, and configurable lighting profiles.
Manual Lighting Behavior: The switch turns lights on/off or to preset dim levels. It can also schedule lighting profiles.
Daylight Harvesting: Fixture lights are dimmed or turned off in response to daylight.
Occupancy or Vacancy Behavior: Configure sensors in a room for manual-on (vacancy switch) or auto-on (occupancy switch).
Energy Savings: Depending on occupancy patterns and available natural light, savings may be as high as 65 percent.
Multiple Switches per Room: Add switches at each room entry point to control room lights.
Personalize and Reconfigure: Customize individual light levels and easily add or remove sensors from a group anytime.
Code Compliant & Rebate Qualified: Out-of-box building code compliant and qualified for energy rebates.
Easy Install: Less labor cost compared to wired lighting solutions due to wireless communications between the switch and sensors.
Driver Compatibility: Dimming and on/off control signaling for 0-10V. Contact Autani for a full list of compatible drivers.
Whichever tier of product you decide on, you will be outfitting your facility with a truly future-proofed solution complete with a powerful upgrade path available when needed.